Making Christmas decorations with your own hands with the whole family is considered a long tradition. Unfortunately, due to our busyness, we are increasingly giving preference to purchased jewelry, rather than making them ourselves. But, if you want to return to childhood, please yourself and your family, cheer up children for the New Year 2021 and engage them in a very interesting activity, diyhometalk.com invites you to make original New Year's papercrafts with your own hands!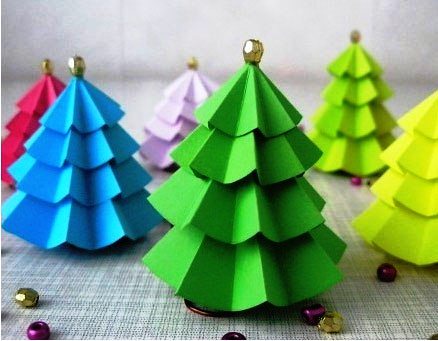 Here you will find everything you need, garlands and balls for the Christmas tree, appliques, and volumetric figures. All this is very easy to do if you follow the step-by-step instructions in the photo.
Christmas paper crafts for the Christmas tree
To make handmade decorations for the New Year tree, you can use ordinary white A4 paper, colored, papyrus, velvet, cigarette, crumpled, and silence as the main material. For volumetric decor cardboard and felt.
Crafts can be of various shapes and types – artificial flowers, chains, and lanterns in the form of a garland, outlines of animals, a star (peak) on a tree, and balls.
For the manufacture of any decoration, you will need a paper of a suitable color idea, scissors, a ruler, a simple pencil, decor in the form of large beads, sequins, rhinestones and Christmas tree tinsel, threads, and a needle.
The step-by-step instructions for each craft are different, so it's better to see clearly than to read.
DIY step-by-step instructions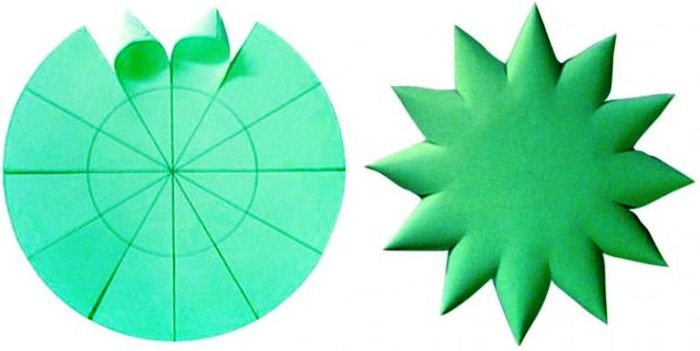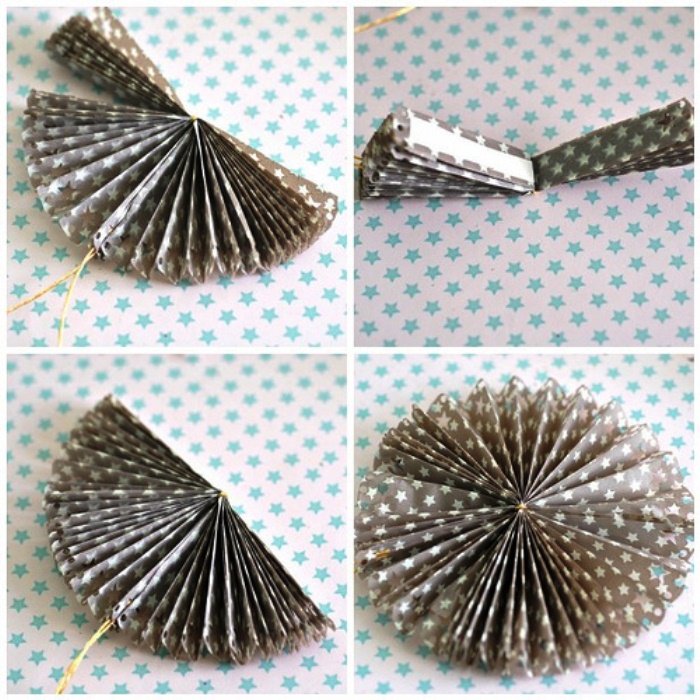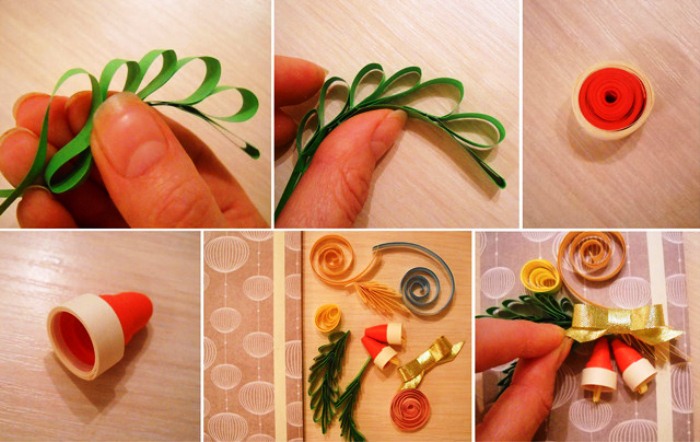 Volumetric paper figures
For schoolchildren, it will be interesting to make an original New Year's craft with their own hands. They will be especially pleased with the ideas of volumetric figures (see photo below) in the form of angels, Santa Claus, snowman, Snow Maiden, animals, and the symbol of 2021.
It is recommended to use a plastic bottle or cups as the basis for making jewelry.
Photo of volumetric figures made of paper, step by step: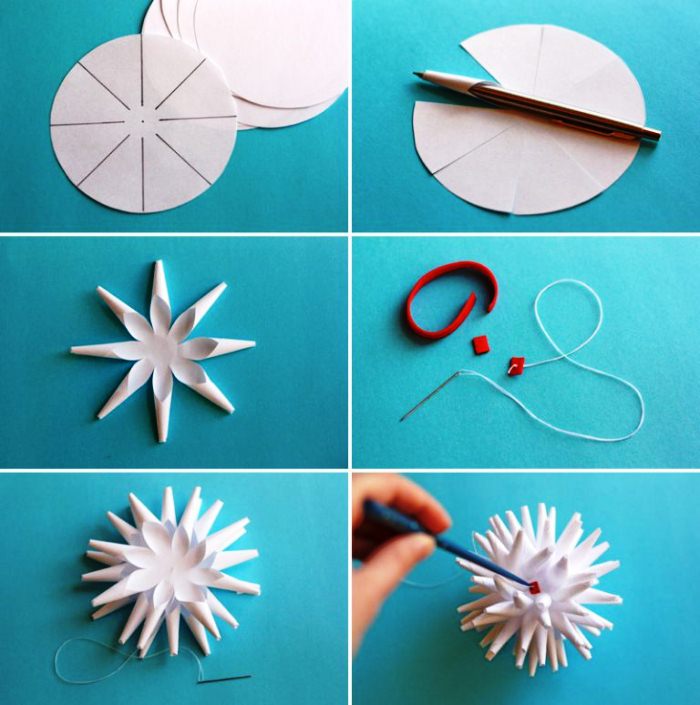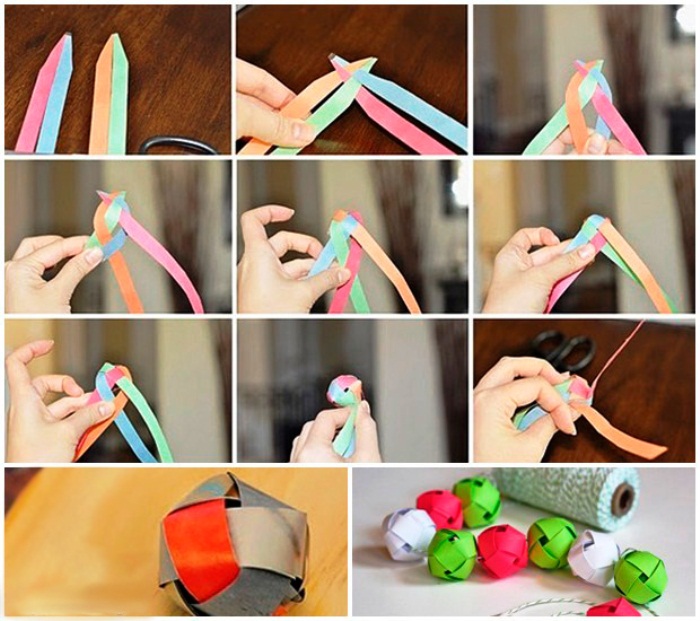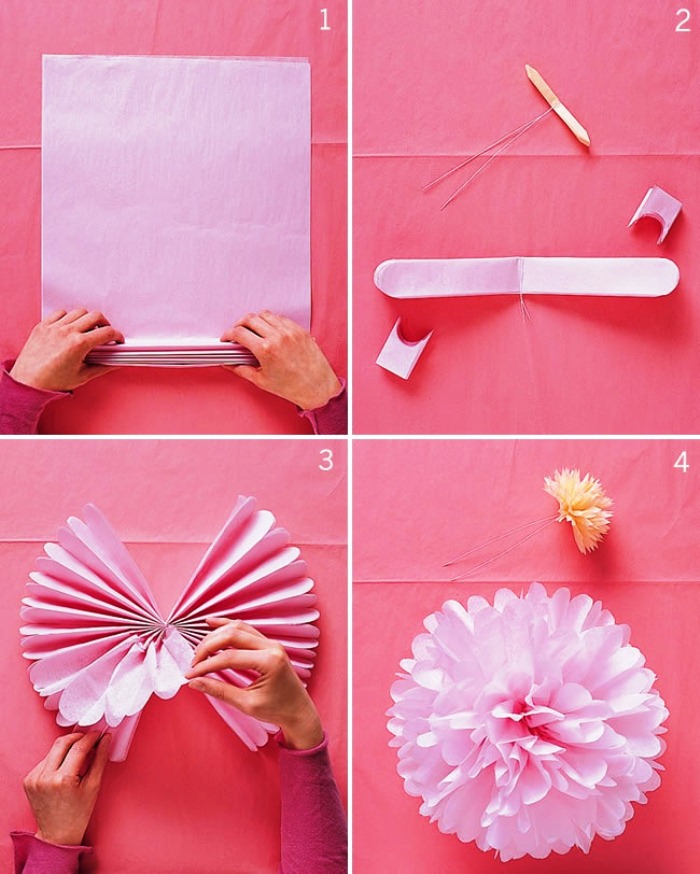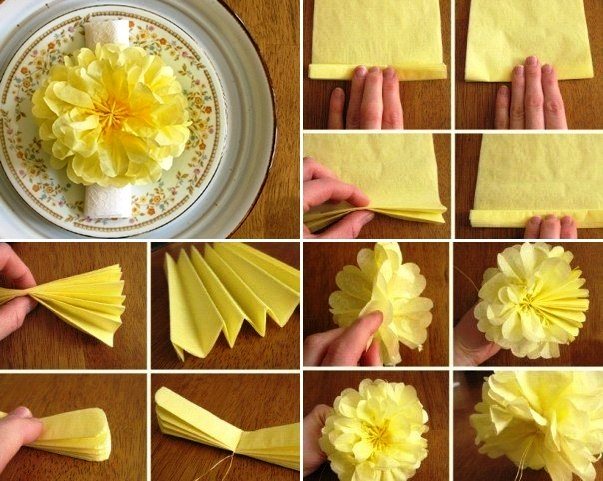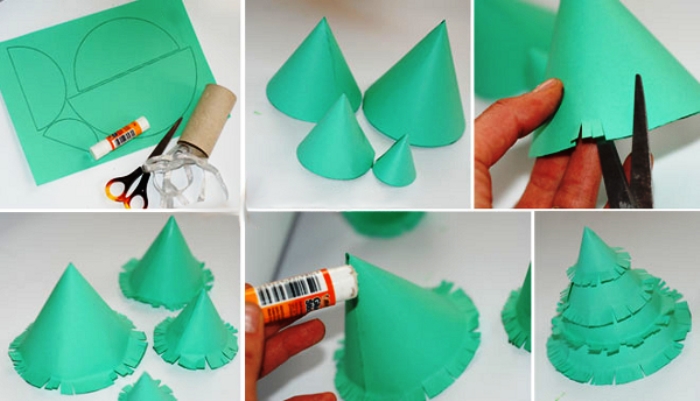 New Year paper garlands
To make an original decoration for a tree or apartment decor (walls, windows), use any paper and thread (satin ribbon). Can also be used in combination with paper cotton wool, large beads felt.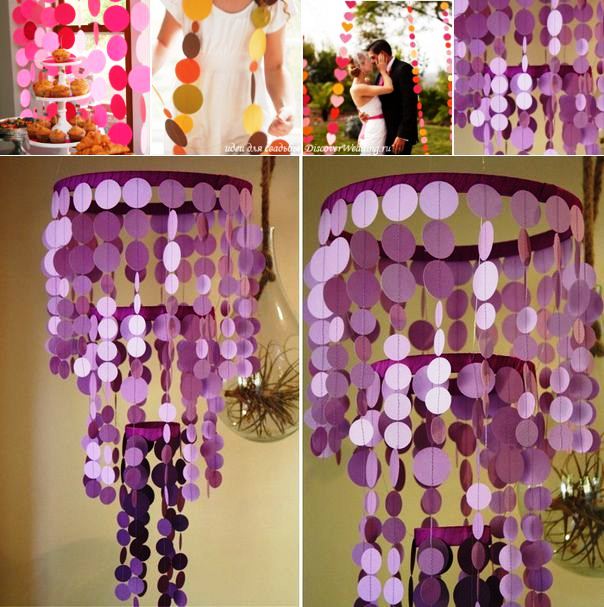 Applications on cardboard
Colored paper applications glued to cardboard can be used in the form of New Year cards and paintings on the wall. You can make animals, fairy-tale characters, and inscriptions with your own hands.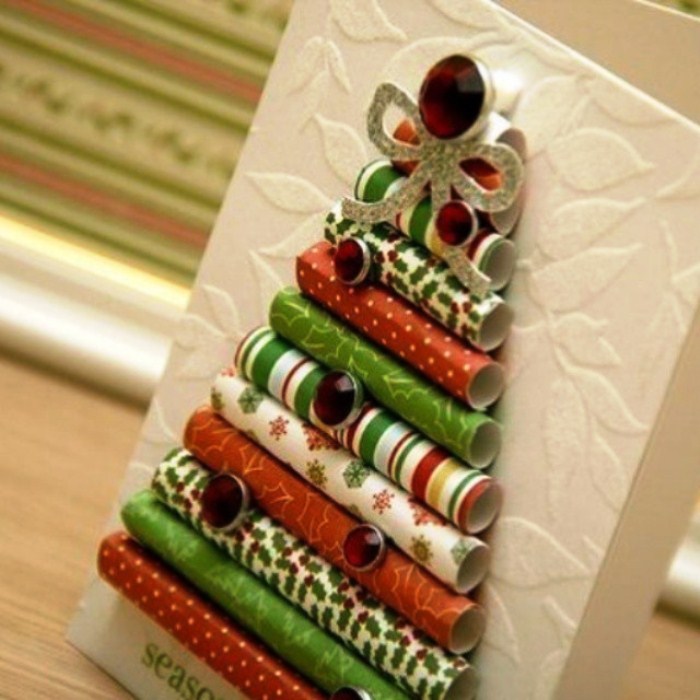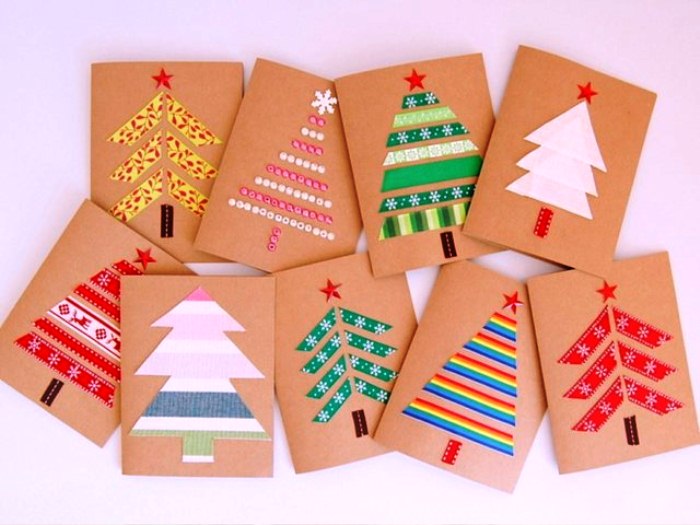 Colorful paper garland for children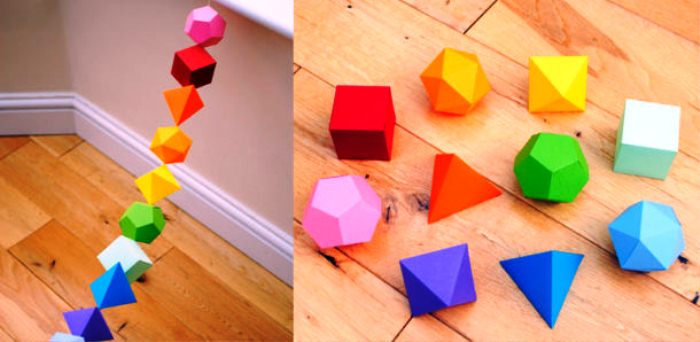 A very unusual and original garland for the New Year 2019 can be made with your own hands from a colored paper of the brightest shades. If you use templates of geometric shapes, you can create wonderful layouts, from which it is then easy and simple to assemble a garland.
This interesting New Year's craft will bring liveliness and color to both the nursery and the common room because the funny garland will raise the mood of both children and adults. Also, the garland can be hung on the Christmas tree as Christmas tree beads.
To make a paper garland, you will need:
colored paper or colored cardboard

pencil

ruler

scissors

glue.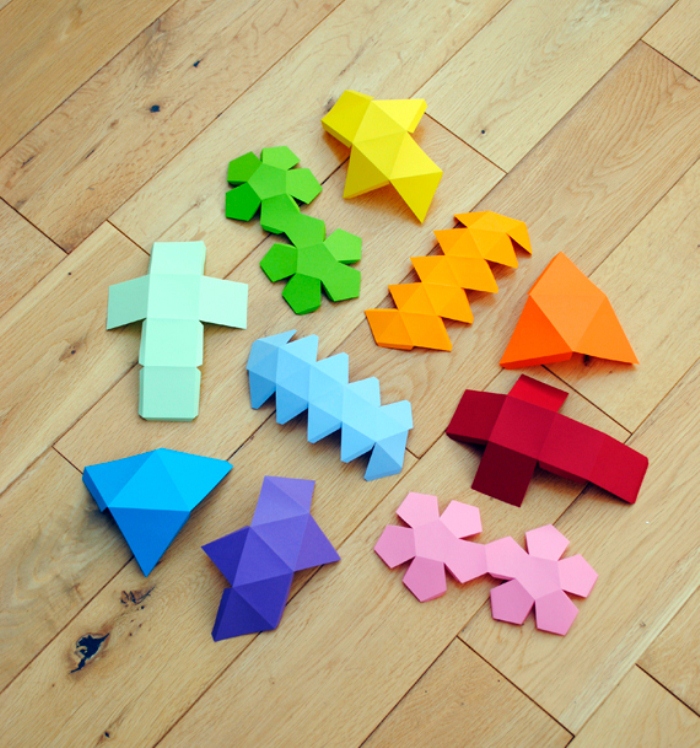 Step 1. Download templates of geometric shapes and print them on colored paper, or, armed with a ruler and a simple pencil (preferably with an eraser), make a drawing of three-dimensional geometric shapes, again, on colored paper or colored cardboard.
Step 2. With the help of scissors, you need to cut out each future geometric shape along the contour.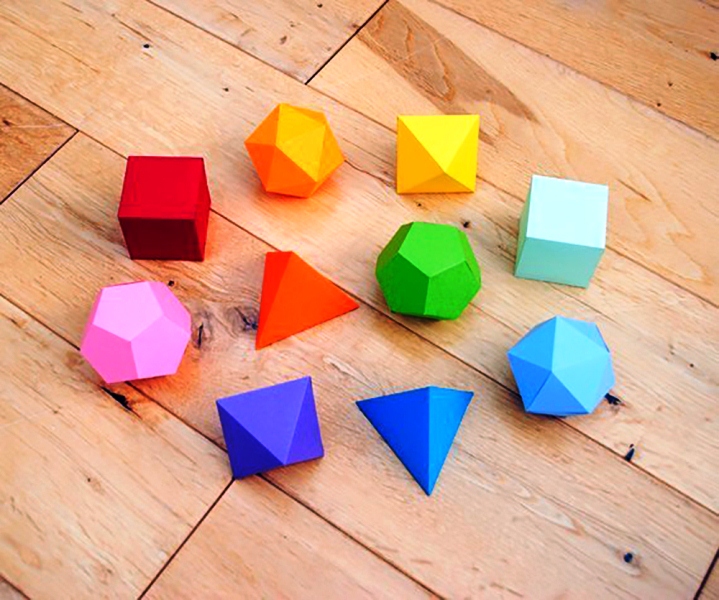 Step 3. Now glue the figures, remembering to pull the thread in time, so that, when assembled, the thread of the garland remains inside the figure. The garland is ready!