In anticipation of the Christmas holidays, cozy gatherings with friends and family, and the exchange of gifts this is what makes us look forward to the arrival of New Year 2021 with special impatience. When you have already decided what to give your loved ones for the New Year holidays, and what to put in the coveted box under the Christmas tree, it remains only to learn from this article how to beautifully and creatively pack your New Year's present.
1. Gift with a message
If you want to mark who the gift is addressed to, create impromptu messages. Cut out small round or rectangular labels from thick paper (ready-made curly adhesive sheets are also suitable). Use scissors to poke small holes in them. Write a name or a short greeting on the label and attach it to the box with double-sided invisible tape.
The message will look especially impressive if you combine it with a small decoration a spruce cone, a Christmas tree toy, a candy, or a cinnamon stick. Want to write your wishes on the box itself? Use invisible tape for this. Due to the matte structure, it is not visible on craft paper, and you can write on it with any pen, pencil, marker.
2. Fragrant present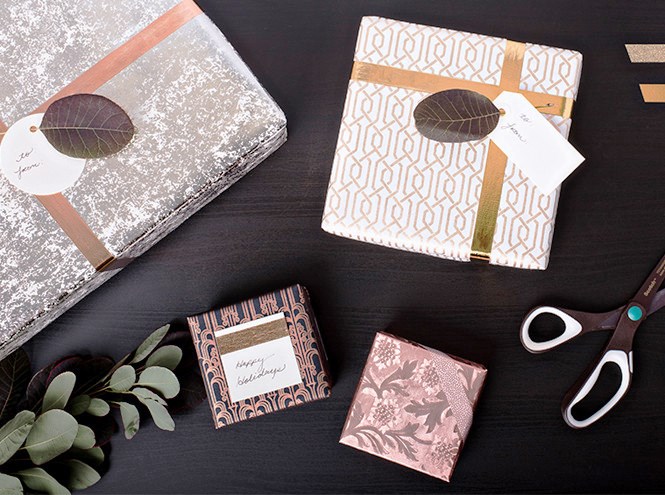 To make your gift delight not only with its beauty but also with its aroma, replace the traditional bow with a sprig of flowers, for example, lavender. You can secure it with double-sided adhesive tape. Cinnamon sticks, coniferous branches, Physalis are also suitable as a fragrant decoration.
3. Cloth instead of paper
Cozy and cute packaging for gifts for the New Year 2021 will turn out if you use fabric instead of paper. You can use various trims of fabrics or old things. Will fit:
Sackcloth,

Lace,

Woolen knitting,

Scarves, etc.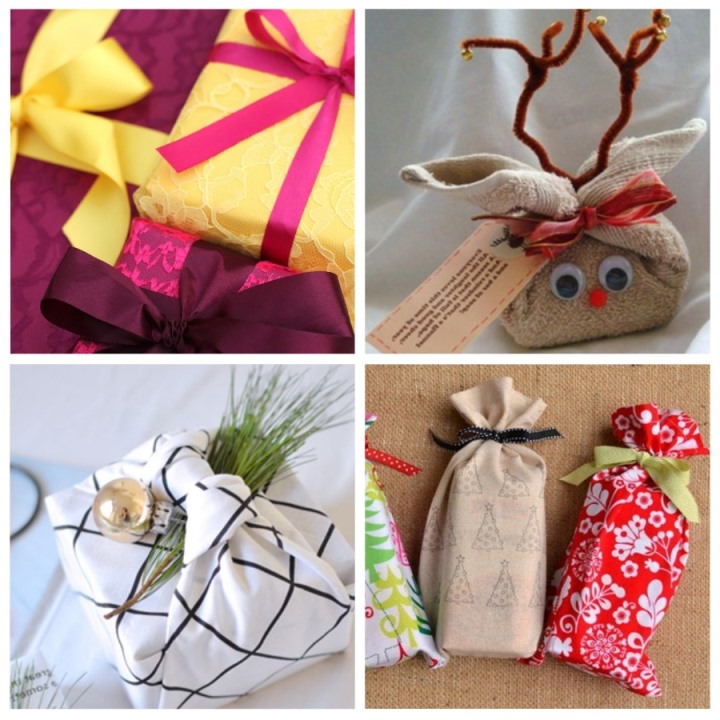 We wrap the box in fabric and decorate it with beads, fir branches, ribbons, wool pompons, etc.
4. For him and for her
Will there be couples among the guests? We offer an idea for decorating a pair of gifts. You will need wrapping paper, invisible double-sided tape, scissors, and a glue stick. Wrap a man's gift in an impromptu tuxedo wrap it in a dark paper, then cut a small rectangle out of light paper and stick it on one of the wide sides of the box. Use wide decorative tape to wrap the perimeter of the box. Tie an impromptu bow tie, and use white beads, buttons, or beans instead of buttons.
For a gift for a girl, make a handbag wrap the box with gift paper, take a sheet of paper and fold it several times so that you get an impromptu pen. Secure it to the sides with invisible double-sided tape. Decorate the resulting bag with stripes of contrasting paper, rhinestones, and other decorative elements using a glue-pencil.
5. Eco-Style Packaging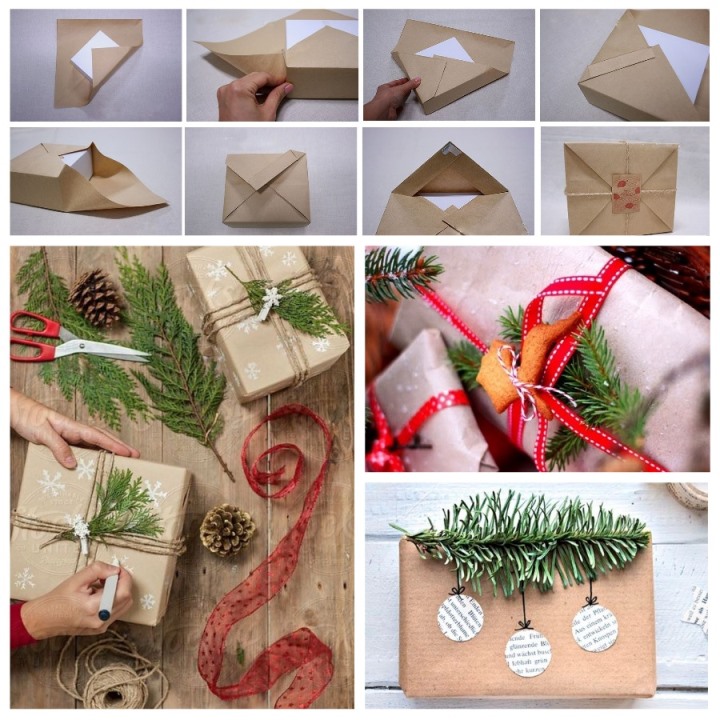 DIY packaging for the New Year 2021 will look very modern and interesting if you use natural materials in the decor. The following materials can be used:
Kraft paper,

Twine,

Fir branches, cones,

Dried citrus rings,

Cinnamon sticks, anise stars,

New Year's figures made of felt or cardboard,

Cookies in the form of New Year's figures,

Lace, ribbons, beads, etc.
You can pack the gift box according to the diagram below and decorate it.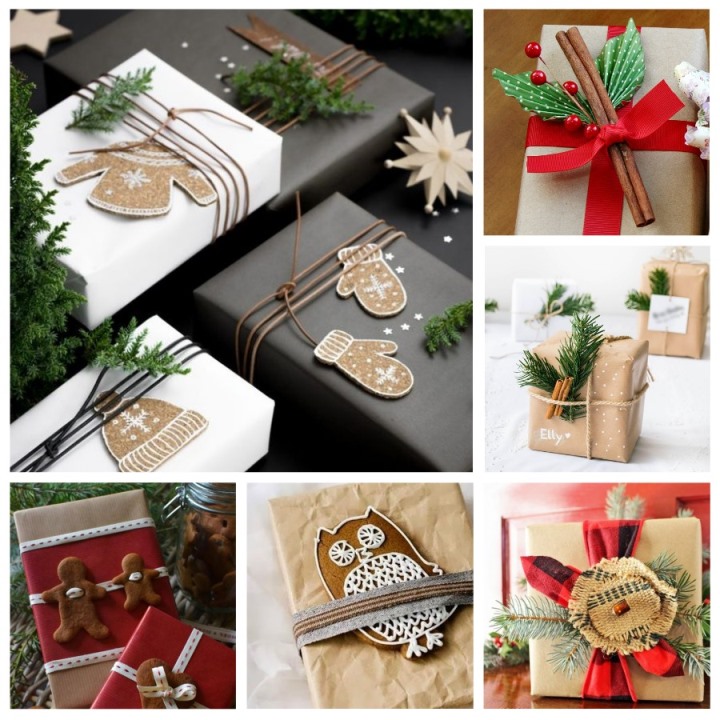 6. Homemade package
An irregularly shaped gift can also be wrapped in a homemade paper bag. You will need craft paper, glue sticks, scissors, pen tapes, colored duct tape. Cut out the details from the paper bottom, the sides, which are slightly larger than the gift itself.
Place the box flat on the paper. Cut the sheet so that there is enough paper to wrap the entire gift, plus significant allowances remain. Bend one of the edges and fold inward the bag handles will be attached there. Wrap the box with paper, glue the edges. Use scissors to punch through the holes for the handles and insert the ribbons into them, tying each end in a knot inside the bag. Use multi-colored adhesive tapes to decorate the bag. You can make the filler yourself by folding a sheet of plain or craft paper with an accordion and cutting it into thin strips.
Step-by-step photos of options and ideas to make an elegant gift bag for the New Year 2021.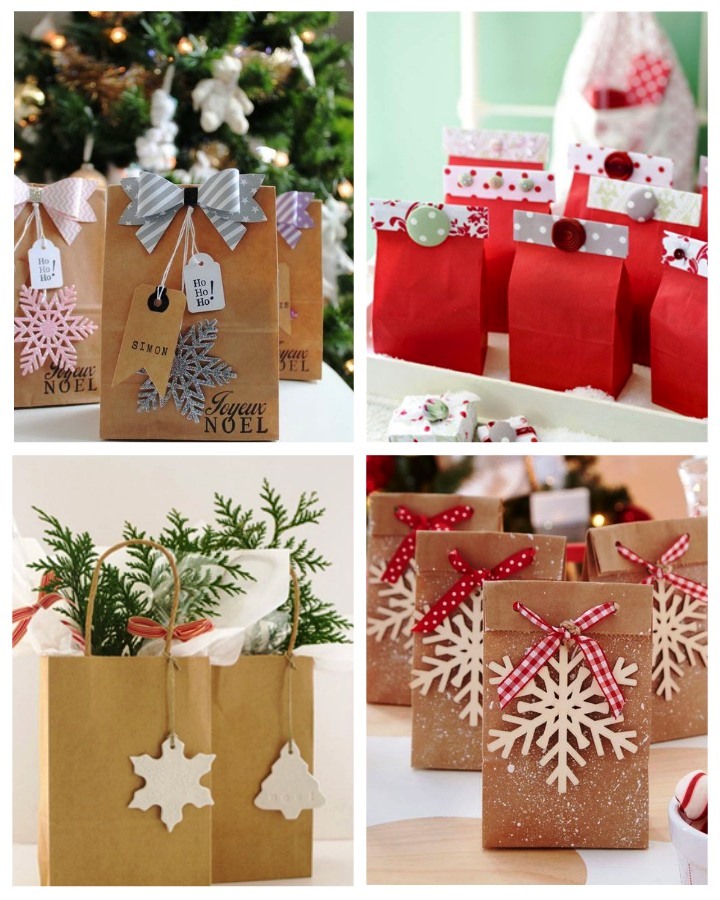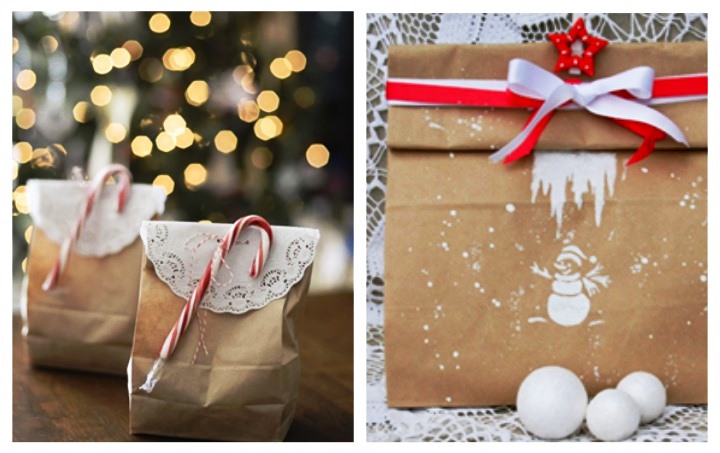 7. Colored Ribbons
You have chosen a gift of a non-standard shape, but you didn't have time to buy decorative packaging and gift paper for it?
Useless boxes (for example, for shoes) and multi-colored adhesive tapes will come in handy. With their help, you can put a picture on the box of a Christmas tree or a bow and glue it around the perimeter or diagonally, imitating a decorative tape.
8. Boxes in hand-made style
The most popular method of packaging a holiday present is a cardboard box.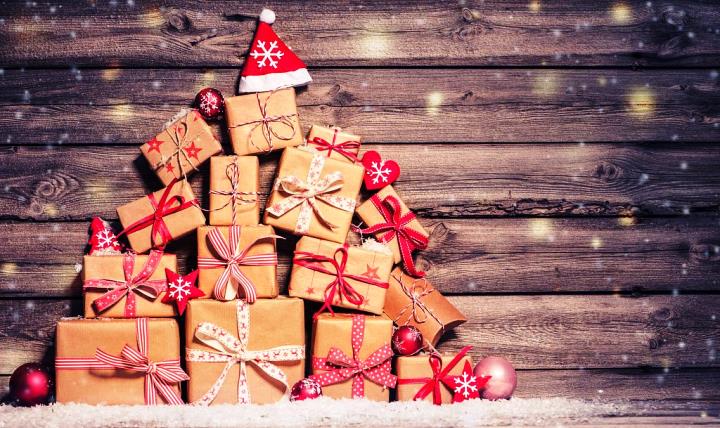 It is very simple to make such a package:
On the Internet, you can find a template or draw it yourself on a piece of cardboard.

Cut the workpiece and assemble it according to the lines in the diagram.

Where necessary we glue the box. It is better to use double-sided tape in the work, as it does not leave marks and smudges.

Decorate the box. If decorative decals are used, it is recommended to apply them prior to assembly. Dry the box and you can put a surprise.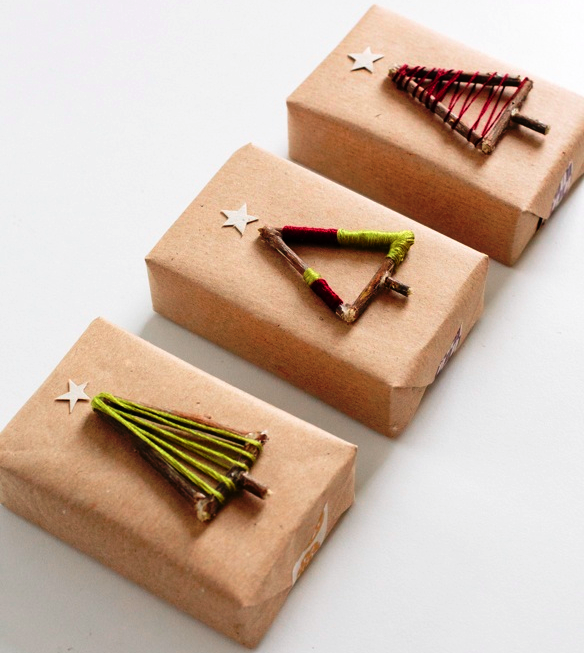 Such a box can be absolutely any shape, for example, a pyramid or even a candy. Consider the process of making candy. For this you will need:
Colored cardboard

Pencil and ruler

Stationery knife

Template

Glue

Thread
So, in order:
Let's transfer the candy stencil to the cardboard.

Cut along the contour lines, make the cuts with a clerical knife.

Press firmly along the folds with a ruler to make a scoring.

Put a surprise in the center of the workpiece, wrap it.

Tie neat bows in the places of the twist.
You can also make the package in the form of a piece of birthday cake. To do this, you need a thick colored canvas or thin cardboard, a ruler, a pencil, and glue. You will not spend more than 30 minutes on making.
Transfer the packaging template to the paper of the color you like. Cut the blanks, bend along the outlined lines. Glue the box, then start decorating.
9. Santa's Fireplace
For packing small gifts, we suggest playing with the tradition of hanging socks with gifts by the fireplace or on the wall. You will need clear clip clips, decorative tape, and socks or mittens. Fix the clips on the surface where the impromptu fireplace will be, and pass the tape through the clips. Attach the socks and mittens to the hooks with small bands.
10. Invisible Bike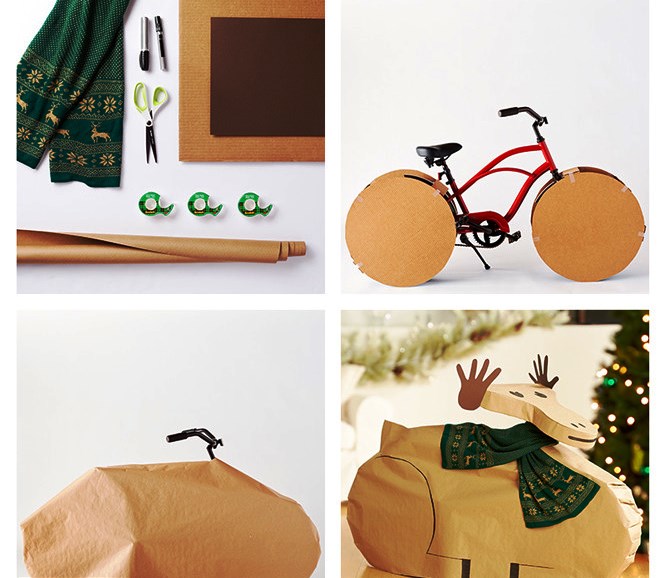 How to pack a bike so that no one knows ahead of time what is in the package? Get some cardboard, a roll of craft paper, scissors, a black marker, duct tape, and a wool scarf. Start packing with the wheels – cut four circles out of cardboard, slightly larger than the diameter of a bicycle wheel. Hide the wheels from prying eyes with cardboard circles, connecting them together with tape.
Then wrap the bike with craft paper. For the steering wheel, make an impromptu deer head out of cardboard, and a cut-out stencil of your hand for the antlers. Drape the neck of the deer with a scarf. Use a marker to draw the paws and face. Santa's reindeer is ready!
11. Packing With A Garland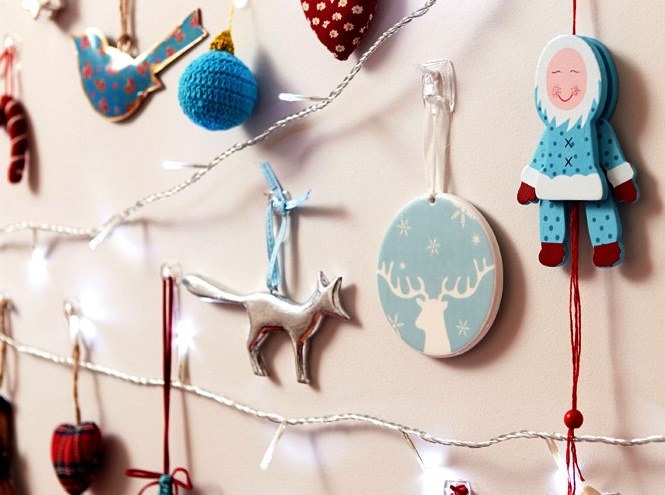 If you bought a large-sized gift, you can make a decorative panel from it. To do this, you will need plain paper, invisible clips, a rope, as well as small detailed Christmas tree decorations, candies, homemade snowflakes.
First, wrap the gift with paper. Then attach small invisible clips to one side of the gift. Thread a rope or LED string through them. Attach a piece of jewelry to each hook using colored ribbons or rope. It would be a pity to unpack such a gift.
12. For the little ones
Do you want to please kids with a gift?
Choose the best gift for children for the New Year 2021 and make an impromptu animal from the packaging a bear or a hare. This will require paper, scissors, tape, and felt-tip pens. Wrap the box with paper, then cut out the ears and legs from a paper of the same color. Attach them to the sides of the box, then draw a face and legs with a marker.